WE ARE INNOVATORS AND ENTREPRENEURS WHO ARE CONVINCED THERE IS A BETTER WAY.
Committed to a better way of life…
We are passionate about giving our customers a way to live a life that's easier, more affordable and more satisfying. A way that makes life better not just for all the people who use and sell our products, but for tens of thousands of people in less-developed parts of the world, too.
Providing radical transparency with a customer-centric focus and a commitment to social good are core to who we are and the company we're building.
Viv is about doing things differently—not for the sake of being different, but to think outside the norms and find better, more creative and more innovative ways to solve real problems for our customers.
WORDS WE LIVE BY
Be fearless in the pursuit of what sets your soul on fire.
JENNIFER LEE
Leadership with experience in the areas that matter:


SALES & MARKETING


TECHNOLOGY


ENTREPRENEURSHIP


ENERGY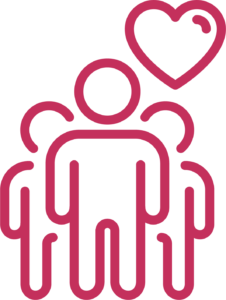 SOCIAL IMPACT
When people and planet come before profits, we all prosper.
CAMI BOEHME, CEO
The history of a company that will make history.

We're bold. We're passionate. We're innovative. It's in our DNA.
P.S. WE'RE HIRING
The story of Viv begins with two smart, successful, purpose-driven entrepreneurs who wanted to do things differently. And one big idea.
Cami, an entrepreneur and businessperson with a branding mindset, was initially drawn to the energy industry because she believed deregulation offered massive potential for customer choice to change the market and open up better choices. But, after spending 8 years in the energy industry, Cami could see the traditional way wasn't working and she decided there had to be a better way. Energy had been deregulated for two decades in many markets, with more than 100 supplier options in some markets for consumers to choose from, yet less than a third of customers had switched in most places. In a world of confusing energy rate plans, unfriendly practices, and complicated switching and renewal processes, the customer had been forgotten. No wonder the promise of deregulation was not being met.
In a parallel path, Kevin, an entrepreneur with an engineering background, was also a frustrated customer in the retail energy industry, having experienced many of the same frustrations that slowed adoption in the industry. So he did what a smart engineer would do—he built himself technology to make the switching process simpler; automatically monitoring the market, finding plans that would save him money, and automating the switching process. And it worked. So he did what any smart entrepreneur would do—he offered it to others who had the same challenges he had. And again, it worked! Kevin's technology simplified the process, saved people money and created happy customers who became advocates.
And then fate stepped in. As it turned out, Cami and Kevin live just a few miles from each other and share many of the same philosophies of building a great business. Cami knew the industry could be transformed and was looking for the technology to bring this vision to light. Kevin had the technology and was looking for a path to scale and bring it to even more consumers.
So the core product, AutoPilot, was a go. It felt, in their own words, inevitable. But for Viv to be truly groundbreaking, it needed to offer other top-notch products and services that everyone, not only people in deregulated energy markets, could use to make their lives better. Products that protect the things we love, services that make everyday things simpler, safer, more efficient, more affordable or more joyful.
Viv also needed a business model that could get these products in front of the most people in the most efficient way. When Robert A. McFadden, a professional networker and inspiring speaker, joined the team, the approach was complete. Rob's vision of building teams and passion for helping individuals succeed meant that Viv could offer not only offer incredible products and services to our customers, but also a powerful side gig to our consultants.
That's our story, but it's just the beginning. Our commitment to each individual customer—and to creative innovation—will define our future.
INTERESTED IN BEING INSPIRED NOW AND AGAIN?
Get weekly stories of changing lives, new product launches, and lots more!